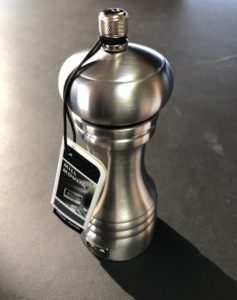 Really have to give a huge shout out to Trudeau Cuisine.
It was only a pepper grinder, but when a piece of plastic broke off, and Rachel still had the receipt and even the packaging, which clearly stated "Lifetime Guarantee", we thought, "what have we got to lose?".
What we expected was the run around: "take it to the reseller", or "send the item to our distributor", or one of the usual tactics designed to make claiming warranty more trouble than it's worth. What we got was: "Sorry, we don't make that model any more. Here are three of similar value, choose one and we'll ship it to you.".
This was rather astonishing, given that we weren't just around the corner – we're talking Québec to Melbourne, but less than a week later, we had our shiny new grinder. That is so impressive!