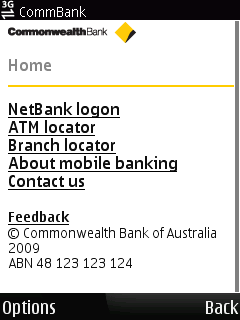 I don't know exactly when they released this, but the Commonwealth bank have just gone mobile with both a mobile and an iPhone app. I've just had a poke around the site on my nokia 6120 and it's excellent. Does everything I need smoothly and easily – they deserve a big thumbs up. If there are problems, I haven't spotted them yet.
Updated…
OK – in the office now, and have had a shot on the iPod Touch. There's good and bad, first the bad.
A link on the commbank home page points to: Netbank via your mobile, which is an entirely flash driven page. If you have an iPhone/iPod, this is a complete dead end. There is no way around it. EPIC FAIL!
If you are lucky, you will realise that there is a direct route at: http://www.netbank.com.au/mobile/, which seems to be a 'sniffer' that redirects you to the appropriate mobile version. If you are on an iPod or iPhone, the site is excellent – smooth and seamless, however no more functionality than the mobile phone version, just the gloss you expect from an 'i' site.