… but what are all those cars doing on it?
According to Google Maps 'blue outlined streets' have Street View, so I was surprised to see that they must have left the car behind one day and hopped on a bicycle, because the Moonee Ponds Creek bicycle trail was outlined in blue just near my house. Alas, the Street View pics don't give a true representation of the bike path – it seems wider and busier than I remember it.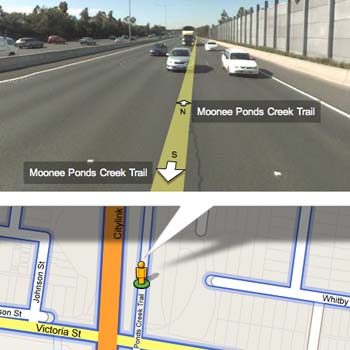 Uh-oh! algorithm troubles! That looks very much like the nearby tulla freeway. I'm sure we're going to see a lot more interesting anomolies among the new Australian images.