Am I imagining things? Perhaps there's someone out there that can help me with this.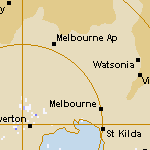 As a kid, (many years ago!) I remember all the bad weather came from the south west. Cold, rainy days, cold fronts, storms – you name it, they all came out of the south west… as I remember, anyway. These days, when rain approaches Melbourne it is just as often from the north west and seems to get scattered by the ranges on that side of the city. I also remember summer storms – cracking shows with thunder and lightning and winds so strong that they swept the rain in spirals down our driveway. Obviously, we are still in drought and weather patterns are pretty grim, but this is one trend I feel has happened over the last 10 years.
So, the question – has anyone else noticed the relative lack of the old sou'wester? and storms, weren't they almost inevitable after a hot day in summer?
Of course, those days we never had the wonderful BOM radar and all I remember is wonky lines on the ABC news weather map. I'm intending to look back over what records I can glean from the extensive bureau archives, but I thought I'd just pop the question here too, in case others have noticed it.