Breathtaking arrogance and stupidity demonstrated this week on the old car vs. bike debate: this time, , from a cyclist.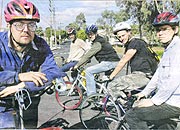 Joel Mayesat and Bill Bretherton of 'Human Powered Cycles' were apparently "appalled to discover" that Bicycle Victoria had sold advertising space to Subaru, who were in turn, getting into the spirit by offering bicycle related incentives to test drive and ultimately purchase a Subaru 4WD.

Now Joel and Bill are good people, doing good work – in fact, I have donated no less than three bicycles to their workshop to be repaired and redistributed to disadvantaged people. I took them down there on the back of our car – yeah, the 4WD with the thumping big bull bar! He obviously didn't realise I was 'THE ENEMY'.
Honestly though, this sort of argument is so wrong on so many levels – clearly they should stick to fixing bikes, and the Moreland Leader should realise that Joel and Bill are not 'Moreland cyclists' in the representative sense, but are, in fact, a couple of Moreland cyclists. I am a 'Moreland cyclist' too, but I'm not losing sleep about the ad space that Subaru bought in a magazine.
There is a quote in the article that states that "For the vast majority of cyclists one of the main sources of danger they have riding on roads are large 4WD vehicles". Funny, 'cause I thought it was the drivers. I mean, without a driver, most 4WDs seem to sit quietly at the side of the road… you can usually spot them and go safely around them – I can't see the problem.
Drivers, on the other hand, drivers that cut across lanes, open doors, turn left right in front of me, park badly, block cycle lanes – now they really give me the shits. They certainly don't all drive 4WDs. In fact, it was after reading this article that I cycled to work and watched as a cyclist stupidly cut through stationary traffic and across a bike lane causing a very nasty crash with another cyclist. Sort of reinforced the message that it's not 4WDs, buses, trucks, motorbikes, bicycles or even pedestrians that are the danger – it's just stupid people.
Now, if Subaru's ad gets a few people in to try their cars, and some of those people decide to get out and use their giveaway cycle maps to explore the two wheeled world a little, what we might end up with is a more aware and intelligent group of people, on bikes and in cars. That would be a good thing for everyone.