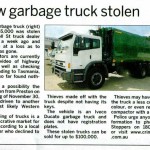 Credit for spotting this goes to my good lady, but this week's theft of a Garbage truck, as reported on page 28 the Moreland Leader (December 10, 2007) seems to be an "open and shut case" as they say in crime reporting parlance.
I only hope the local plods are reading the paper too, because on page 16 is a red hot clue to the whereabouts of the missing truck. Tucked among the Letters to Santa is this intriguing admission from young Fabian of Pascoe Vale: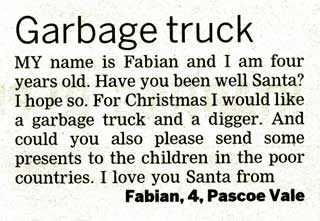 Surely we've got the culprit red handed! He might even be wearing a full red suit… can't be hard to spot someone like that, can it? Hang on a minute: did he say he wanted a digger too?!