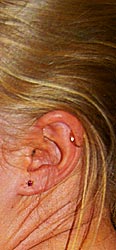 Eliza has beautiful, long, wavy golden hair. When she announced tonight that she was going to have it all shaved off in the name of charity, her mother forbade it… not that she took any notice of that… she was always a headstrong girl!
Anyway, she seems committed, so next Friday it all comes off as part of the world's greatest shave. I suppose we should be grateful, after all, it's hard to think of a more worthy cause than the Leukaemia Foundation.
So, please help make it all worthwhile. Follow this link directly to Eliza's secure sponsorship page and give generously.