Couple of new things on Google Maps / Street View.
They've added some new imagery captured by the trike, Google Earth Blog has a good write up of the additions.
While I was there, I was alerted by user "Munden" that the blue dots of user generated photos had disappeared from the Google Maps when you dragged Pegman. Indeed! That does make it a lot easier to drop pegman on a 'real' bit of streetview. You can still access the photos by turning on the photo layer first, then dragging pegman onto a photo. Works OK, but I found it didn't work in the little inset map that displays in the lower right corner. Maybe that's on their list!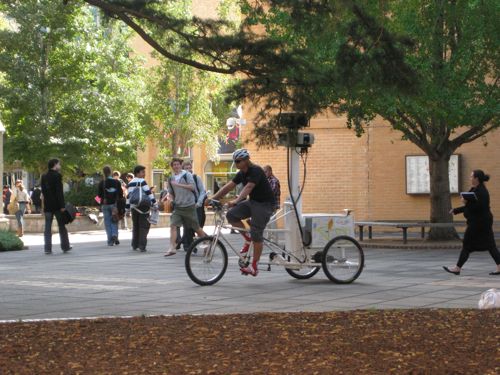 Speaking of "on their list", at the start of May last year, the Google Street View trike visited my uni's campus, but still no sign of the images online. The LatLong blog seemed to be using the recent additions to trumpet their partner program, but I have to say, if our experience is any guide people will have a looong wait for any results!