Every weekend it seems we end up eating… rather a lot. This weekend was longer than usual and so we've eaten rather more than usual! Here's a few highlights.
Sunday breakfast: superb batch of blueberry muffins – buttermilk makes them so moist and soft!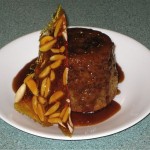 Sunday evening: Moussaka – haven't made it for years, but it was a beauty. The eggplants at La Manna were smooth, dark and glossy, so I just did it simple and straight. Will definitely revisit that before the winter is out. After loosening my belt a stop we had dessert – Rachel was inspired by Masterchef and turned out a sticky date pudding that would have had the other contestants running home weeping!
Monday brunch with friends at GingerLee, I had poached eggs with field mushriim, avocado and coriander… excellent! All perfectly cooked and delicious, but the real highlight was the coffee: smooth, rich and full of flavour without a hint of bitterness.
It was a wickedly wintry day, but we braved the elements for a good long walk along the Maribyrnong river – ending up, mostly out of curiosity, at Gary Mehigan's Boathouse for a coffee. I was surprised how much of a 'family' restaurant it was… chippies and pizza on many tables. Still, we placed our orders for tea and coffee and settled down to watch the weather pound the windows while we waited… and waited, and waited! Actually, my coffee came quite promptly, but it took 20+ minutes for the tea to arrive. Tea bag + hot water – obviously a difficult dish to get to the table. Meantime, I had just about choked on my coffee which tasted like it had been beaten with a burnt stick. I didn't expect it to live up to GingerLee's delicious brew, but this was burnt and over extracted – undrinkable! I don't like to complain, but when I mentioned this to the waitress, she was simply charming and immediately offered another coffee, which, when it came was a huge improvement. Just goes to show, even the judges aren't immune to slip ups in the kitchen, but their staff certainly know how to deal with them.