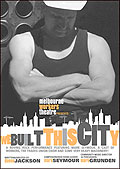 Last week at the 8 hour day celebration at the University of Melbourne, I became aware of a new production by the Melbourne Workers Theatre; 'We Built This City'. I wasn't sure at first, but a song I'd heard at the celebration was brilliant and I just wanted to hear more.
Once I'd found the details, the reason for the quality of the music became apparent: composed by Mark Seymour, booked the tickets very painlessly through EasyTix (no booking fee, take note Ticketmaster!). When we saw a double page spread review in the Sunday Age, and realised that Mark Seymour was also performing the music, we knew we were onto something special.
I won't go into rapturous detail about the staging and effects, the inspirational music (songs about the MUA, The Westgate Bridge disaster), the inspired choice of venue (the old Pumping Station at Scienceworks, just a 5 minute walk from the aforementioned bridge), the gargantuan props (100 ton crane!), the gritty reality (real arc welding and metalworkers provided the pyrotechnics)… etc! … but I will say: If you are in Melbourne and you can get along to this in the next week. DO IT!